What is the one most important thing a person can do to help the world?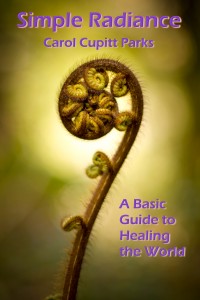 That was the question Carol asked of the universe. The answer she received inspired her to create a workshop based on her experience and personal philosophy of healing.
Simple Radiance: A Basic Guide to Healing the World is now available from Amazon.com. This workshop handbook presents easy ways for readers to experience their own heart energy and use it to create balance and wellbeing. It is not necessary to attend a Simple Radiance workshop to benefit from the exercises and techniques. All you need is an open heart!