Namaste,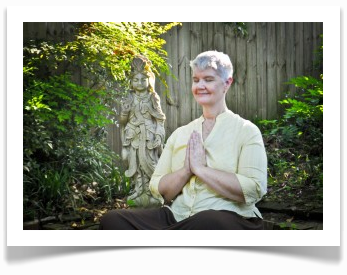 My name is Carol Cupitt Parks. For as long as I can remember, I have been sensitive to and interested in the energies that surround and permeate our physical world. My awareness turned to passion in the early 1980's when I studied parapsychology with Joe Slate, Ph.D., author of Aura Energy and several other books on metaphysical science. I pursued careers in television and public relations, all the while informally practicing aura scanning/repair and developing my intuitive abilities by reading for friends and co-workers. In 1996, I decided to study massage therapy; on my first day of classes I stated that massage therapy would be my springboard to a full-time practice of the healing energy work that is my soul's calling. That year, I took my first training in Reiki, and in 1998, I became a Reiki Master. In the following years, I developed a successful therapeutic bodywork practice, based largely on treatments combining massage and energy healing, and eventually opened my own studio, Green Chi. In 2010, my words from that first day of massage school came true: I transformed my business into a full-time, energy-based healing practice, and Heart of the Spiral was born.
Along the way, I discovered great delight in sharing my knowledge by presenting workshops on the human energy system, Reiki, and other energy healing techniques. I have taught massage therapists, yoga teachers, nurses, and the generally curious. My handbook, Simple Radiance: A Basic Guide to Healing the World, explains the philosophy behind my healing work and offers some easy techniques to use on oneself and others. About 5 years ago, I began to focus on the power of sound to effect wellbeing, and I joined the Sound Healers Association in January 2013. In 2016, I added vibrational essences to my alternative "medicine chest," becoming a certified Star Essences Practitioner. 
A native of Pensacola, Florida, I currently live in Little Falls, New York, with my husband, Richard, and a varying number of cats. I have a Bachelor of Arts degree in English from the University of West Florida and am an ordained minister in the Universal Life Church. I am also a mesa carrier in the Pachakuti Mesa Tradition of Universal Shamanism. 
Blessings!
 Carol